Political journalists boycott No 10 briefing after PM's aide tries to ban selected reporters – live news | Politics
Political journalists boycott No 10 briefing after PM's aide tried to ban selected reporters
Political journalists walked out of No 10 Downing Street this afternoon in protest at the government planning to give a briefing on the EU only to selected reporters – banning The Mirror, i, Huffington Post, PoliticsHome, Independent and others from attending.
Reporters on the invited list were asked to stand on one side of a rug in the foyer of No 10, while those not allowed in were asked by security to stand on the other side.
After one of Boris Johnson's most senior advisers, Lee Cain, told the banned reporters they must leave the building, the rest of the journalists decided to walk out rather than allow Downing Street to choose who scrutinises and reports on the government.
Among those who refused the briefing and walked out included the BBC's Laura Kuenssberg, ITV's Robert Peston and political journalists from the Daily Mail, Telegraph, the Sun, Financial Times, and Guardian.
The briefing was due to be given by government officials, who are meant to be neutral, rather than political.
The tactics from No 10 mirror those of Donald Trump in the US who has been known to try to exclude journalists from reporting on his activities and represents an escalation of Johnson's tensions with the media, which have been ramping up in recent weeks.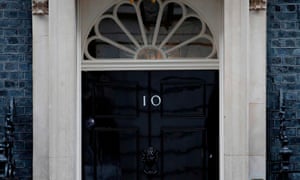 Updated

Michel Barnier's speech and Q&A – Summary
'Level playing field' not a generally accepted concept, says No 10
The Welsh first minister, Mark Drakeford, has expressed reservations about Boris Johnson's hardline negotiating position. Speaking at a press conference in Cardiff, Drakeford said:



The red line approach to negotiation has not served us well during the first phase of leaving the European Union. It doesn't help to create the flexibility and compromise that any negotiation is bound to involve.
Drakeford said Wales would be working hard over the next weeks and months to strengthen its bonds with trading partners.
This would include work around the Wales v Ireland rugby match in Dublin on Saturday and events in Berlin, Paris and Brussels in the spring. Drakeford said work was also being done to boost trade between Wales and Canada and the US. He said:



We recognise that leaving the European Union means we have to work even harder to make sure that Wales is known, promoted and successful around the world.


Sahred From Source link World News